Cheap flight with Emirates
Auteur:
Yanesha
Catégorie:
Tags:
Heure:
17th August, 2009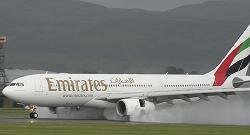 Author: fraserspeirs
Since 16th August 2009, Emirates, the airline based in the United Arab Emirates is proposing cheap flights for its residents in Dubai on the occasion of the Ramadan. Emirates cheap flight is planned to help residents of the United Arab Emirates to visit loved ones who live internationally at a cheap fare. The ticket of Emirates for its cheap flights will be available as from AED 955 (£157) in economy class. The cheap flight of Emirates will be applicable for 17 destinations, that is: Bahrain, Karachi, Amman, Cairo, Mumbai, Damascus, Delhi, Istanbul, Beirut, Kuala Lumpur, Larnaca, Doha, Kuwait, Muscat, Athens, Casablanca and Islamabad.
Source: Emirates
For more information on AirValid Airline Opinions
See other articles by Yanesha
2 answers for the article "Cheap flight with Emirates"
On 20th January, 2012, 8:11 pm Nicole says:




Dear sir,
I want to travel from beirut to dubai with a low price from 8/feb 2012 in the evening till 11/feb 2012 evening 1 adult and 1 child (10 years) with Emirates airlines what deal we can offer to me. Waiting your reply as soon as possible.
Regards

On 27th January, 2012, 10:38 pm akhilesh says:




Hello Nicole,

Thank you for visiting Air Valid's blog and for your comment regarding flight reservations & booking. Unfortunately Air Valid itself cannot deal with the responsibility of airline or hotel bookings or reservations since we simply act as an informative platform over the internet for travelers before their bookings. In fact, Air Valid publishes certified information and opinions for 1593 Companies.

However we, Air Valid, are pleased to help with a maximum of information for your flight by providing you the link of our partner EasyVol, the best low-cost search engine to compare and to book flights on over 300 low cost and traditional airlines. Please follow this link for further information: http://www.air-valid.co.uk/compare-with-easyvols.html

Moreover, if you want to be informed of any flight delays, Air Valid is pleased to offer you the opportunity to have a "FREE" and "EXCLUSIVE" service. You just need to set a flight delay alert of an airline and airport for your next flight. The alert service Flights Delays offers not only flight alerts for your delays but also anomalies concerning delays, cancellations and strikes among others. To be able to access a Flight Delay Alert, the link is as follows: http://www.air-valid.co.uk/flight-delay-status-alert.html

Best regards
Have Your Say
Recent Posts

Archives

Categories

Recent Comments