Flights from Belfast City airport with Easyjet
Auteur:
Yanesha
Catégorie:
Tags:
Belfast City, Belfast International airport, Easyjet
Heure:
2nd November, 2009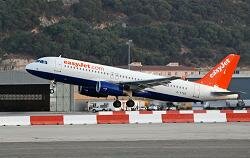 Author: Roy McGrail (krm gib)
Easyjet the British airline, will now start operating from Belfast City Airport with a twice daily flights departing from London Luton. The flight between London Luton and Belfast International Airport presently operated by Easyjet will now shift to Belfast City as from 7th January 2010. Hence the passengers travelling with Easyjet who have already booked their airline ticket for a trip between Luton and Belfast International airport will be contacted as fron 7th January 2009 and they will be advised to either transfer free of charge to the Belfast City route or they are allowed to claim for a full refund. Easyjet flights from Belfast City airport in on sales as from £21.99 one way.
Source: Easyjet
For additional information on AirValid Airline Opinions
See other articles by Yanesha
One Response for the article "Flights from Belfast City airport with Easyjet"
On 15th December, 2011, 6:05 pm Belfastcity Airport says:




I agreed your site. Thanks for sharing.
Have Your Say
Recent Posts

Archives

Categories

Recent Comments